Were They Really the "Good Old Days"? Depends on Who You Ask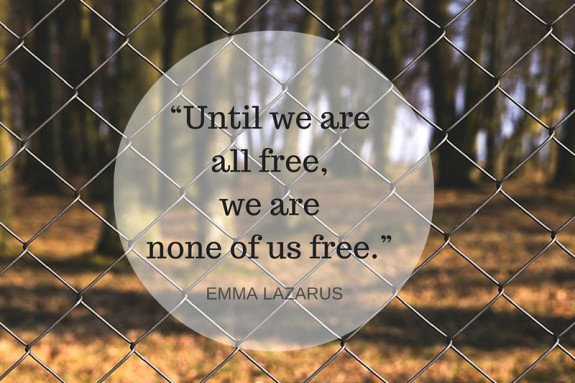 When Were the "Good Old Days"?
Some people want to rewind the clock a few years. Back to when they thought America was moral. When Christian values were common. Back to the "good old days."
But when we talk about the "good old days," how accurate are we?
Maybe it depends on who you were in those days.
If you were a white-skinned, middle-class, Protestant American, maybe those "good old days" were a tidy little world for you.
But what if you were a dark-skinned man, denied a job because of that color?
What if you were an African-American mama worried about your child being arrested if he spoke "disrespectfully" to a white passerby on the street?
What if your family wasn't allowed in the front doors of a local church or school because it was the white church or school and you happened to be black?
Those who were being oppressed would NOT refer to those as the "good old days."
And I don't believe those who were doing the oppressing should refer to them as the "good old days" either.
A Country's Sin
Whether we're the oppressed or the oppressors, it is not good. Whether or not we personally participated in individual sins of racism, the cultural sin of racism and its ripple effects still affect us all. On both sides of the issue.
As American poet Emma Lazarus said first in the 1800s,
"Until we are all free, we are none of us free."
These words were put into the song "None of Us Are Free" sung by Ray Charles (1993), by Lynard Skynard (1997), and by Solomon Burke (2002).
And now in prose form, we hear the message again in the words of Ta-Nehisi Coates in his award-winning non-fiction book, Between the World and Me.
The book is written as a letter to his teenage son, Samori, to help him navigate our history and our present.
"This is your country, this is your world, this is your body, and you must find some way to live within the all of it."
But we all need to hear these truths.
Advance the Conversation
So what happens the next time we hear someone talking about the "good old days"?
Here are three things we can do.
Agree on things that were truly good. We certainly have all had good days that should be fondly remembered. Praise God for those.
But we can also acknowledge the truly bad and not categorize a whole era as a "Christian" one, if it involved cultural discrimination against an entire race of people.
Then we can begin a fresh dialogue about what "good NEW days" could look like.
As Nelson Mandela so eloquently said,
"To be free is not merely to cast off one's chains, but to live in a way that respects and enhances the freedom of others."
Quotes from Between the World and Me
Listen to the fear:
"When I was your age the only people I knew were black, and all of them were powerfully, adamantly, dangerously afraid. I had seen this fear all my young life, though I had not always recognized it as such."
~ * ~ * ~
"Later, I would hear it in Dad's voice—"Either I can beat him, or the police." Maybe that saved me. Maybe it didn't. All I know is, the violence rose from the fear like smoke from a fire, and I cannot say whether that violence, even administered in fear and love, sounded the alarm or choked us at the exit."
~ * ~ * ~
". . . when I was about your age, each day, fully one-third of my brain was concerned with who I was walking to school with, our precise number, the manner of our walk, the number of times I smiled, who or what I smiled at, who offered a pound and who did not—all of which is to say that I practiced the culture of the streets, a culture concerned chiefly with securing the body."
Listen to the struggles:
"The question is not whether Lincoln truly meant "government of the people" but what our country has, throughout its history, taken the political term "people" to actually mean. In 1863 it did not mean your mother or your grandmother, and it did not mean you and me."
~ * ~ * ~
"Hate gives identity. The nigger, the fag, the bitch illuminate the border, illuminate what we ostensibly are not, illuminate the Dream of being white, of being a Man. We name the hated strangers and are thus confirmed in the tribe."
~ * ~ * ~
"I left The Mecca knowing that this was all too pat, knowing that should the Dreamers reap what they had sown, we would reap it right with them."
Listen to the need for us all to change:
". . . and the terrible truth is that we cannot will ourselves to an escape on our own. Perhaps that was, is, the hope of the movement: to awaken the Dreamers, to rouse them to the facts of what their need to be white, to talk like they are white, to think that they are white, which is to think that they are beyond the design flaws of humanity, has done to the world."
~ * ~ * ~
"'It only takes one person to make a change,' you are often told. This is also a myth. Perhaps one person can make a change, but not the kind of change that would raise your body to equality with your countrymen. The fact of history is that black people have not—probably no people ever have—liberated themselves strictly through their own efforts."
* * *
I highly recommend Between the World and Me if you haven't read it already. You can start here with these blog posts by Deidra Riggs:
As I wrestle with  discrimination:
How do you feel about the "good old days"? How can we improve these days? Please share your thoughts in the comments.