None of us wants to be dumb. We all need wisdom.
To make godly decisions
To raise children who know the Lord
To love others in helpful ways
To glorify God in word and deed
Who's the wisest man who ever lived? Solomon? He asked God for wisdom when he could have asked for anything (1 Kings 3:9). He subsequently authored much of the wisdom literature in the Bible.
Yet someone wiser than Solomon is here: Jesus (Matthew 12:42). In the Bible we typically seek His wisdom in the gospels where we see Him teaching about wisdom and living wisely (Matthew 13:54).
But Jesus can also be found in the wisdom literature of the Old Testament (2 Timothy 3:15).
The wisdom of humility (Job)
The wisdom of worship (Psalms)
The wisdom of the way (Proverbs)
The wisdom of hope (Ecclesiastes)
The wisdom of connection (Song of Solomon)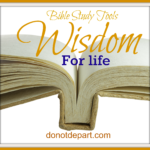 * * *
I'm writing today at Do Not Depart.
Which of the five Wisdom Books is your favorite?
Why?
Do you see Jesus in it?