What Will You Read Next? How Do You Decide?
You've finished reading your book. How do you decide what to read next?
Here is how I decide what to read next:
I look to my blogging friends.
I watch what pops up on the "New Releases" shelf at the library.
I get book titles from podcast interviews (including Modern Mrs. Darcy, of course).
I take suggestions from in-person friends.
I write down recommended books listed within a book.
I notice God nudging me to work on and learn about a specific topic.
But in November? I add to my to-be-read list from #Nonficnov posts. It's an overload of the best of the best nonfiction books from bloggers who read.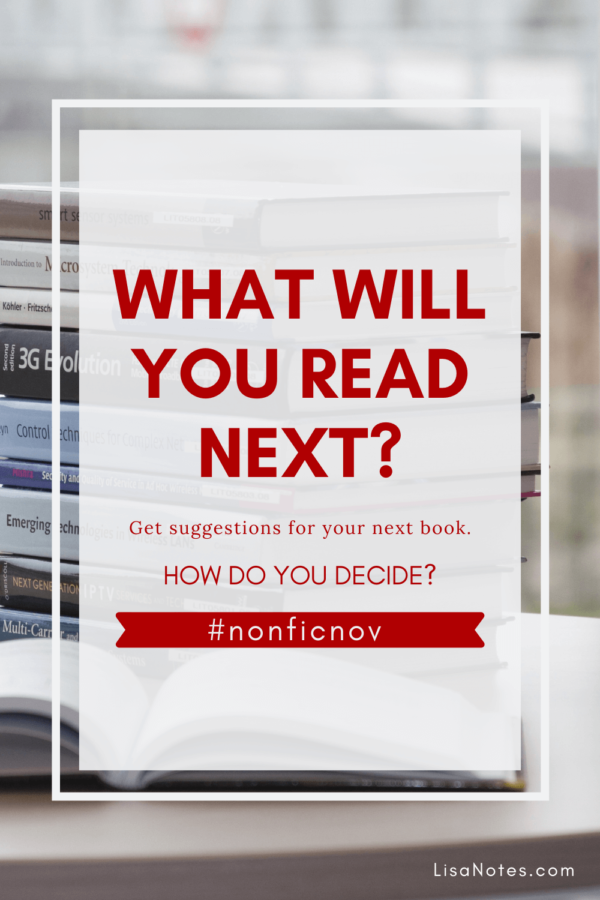 Below are the titles I've collected this November from the blogging challenge. I'll first get samples sent to my Kindle from Amazon. If I like them, I'll check my library and digital library for a free copy, or see if Net Galley has a free copy for review. If I can't find a free copy and I really, really think it'll be a great book, I'll buy a copy.
Have you read any of these books? Would you recommend that I read them?
1. In Other Words
A Language Lover's Guide to the Most Intriguing Words Around the World
by Christopher J. Moore
Recommended by Deb Nance at Readerbuzz
2. The Power of Small
Making Tiny Changes When Everything Feels Too Much
by Aisling Leonard-Curtin & Dr. Trish Leonard-Curtin
Recommended by Leann at Shelf Aware
3. Lies My Teacher Told Me
Everything Your American History Textbook Got Wrong
by James W. Loewen
Recommended by Jen at Introverted Reader
4. The Warmth of Other Suns
The Epic Story of America's Great Migration
by Isabel Wilkerson
Recommended by Claire at Claire Has a Life
5. The Body
A Guide for Occupants
by Bill Bryson
Recommended by Happiest When Reading
6. Bad Blood
Secrets and Lies in a Silicon Valley Startup
by John Carreyrou
Recommended by Katie at Doing Dewey
7. The Clutter Connection
How Your Personality Type Determines Why You Organize the Way You Do
by Cassandra Aarssen
Recommended by Laura at Library of Clean Reads
8. The Space Barons
Elon Musk, Jeff Bezos, and the Quest to Colonize the Cosmos
by Christian Davenport
Recommended by Jen at Introverted Reader
9. Why We're Polarized
by Ezra Klein
Recommended by Happiest When Reading
10. The Choice
Embrace the Possible
by Dr. Edith Eva Eger
Recommended by Carol at Reading Ladies
---
Do you have a favorite book you would add? Share in the comments.