Links, books, and other things I love – March 2016
1 SECOND EVERYDAY – February edition
[click here if you can't see the video]
~ * ~ * ~
AROUND THE WEB
• White Privilege
Um, this one might make us uncomfortable. It's important reading on "What my white, heterosexual, educated, first world privilege is teaching me about empowerment." I just finished reading Ta-Nehesi's Between the World and Me so I'm already convicted.
• Stop Complaining about People in Poverty (At Least Around Me)
And while we're at it, keep reading this by Shawn Smucker.
• How Meditation Changes the Brain and Body
Yet another new study shows a little bit of mindfulness can go a long way.
• School Digger
An interesting site to evaluate any public school in America.

• 4 Common Mistakes with Pronouns
Henneke says that silly mistakes with pronouns are like tiny pebbles in our shoes. Take the time to stop and remove them.
• Favorite blog tools from ProBlogger
In this podcast (and in the blog notes) Darrin Rowse gives links to his favorite tools that save time and make his blogs stronger.
~ * ~ * ~
ON READING
• 10 Rewarding Reasons to Read
Why do you read? Can you pick a favorite reason from the list? I couldn't decide: maybe 2 or 3 or 6 or 10.
• Quiz: "How comfortable are you with uncertainty?"
This quiz is from the book, Nonsense: The Power of Not Knowing, by Jamie Holmes. I've not read it, but I hope to.
• Books I recommend from February reading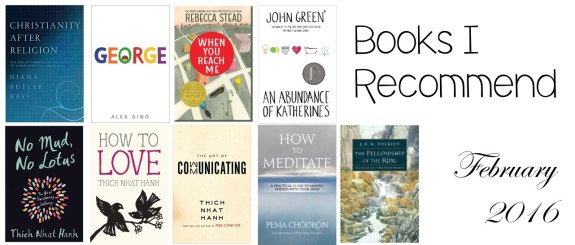 • Currently reading:
The Marriage of Opposites (Alice Hoffman)
Habits of Grace (David Mathis)
Walden (Henry David Thoreau)
Breaking Busy (Alli Worthington)
Reliving the Passion (Walter Wangerin Jr.)
A Return to Love (Marianne Williamson)
The Path of Centering Prayer (David Frenette)
~ * ~ * ~
THINGS I LOVE
• Old photos
In cleaning up boxes of photos, I ran across this lovely picture of hubby Jeff with his brother Steve and parents from the 1960s. Such a classic. 

• Memorizing in community
Our group at Do Not Depart is continuing to memorize Matthew 6 together. It's aways enlightening to spend extended time in one section of scripture. Weekly blog posts are here.
• Cruise!
Looking forward to vacationing soon with my 4 Corner friends (picture below) and our spouses. On a cruise! (I never thought I'd get Jeff on a cruise, and well, it hasn't happened yet. Check back next month.)
• Sleepover
We had our annual spend-the-night party two weeks ago to discuss plans about the newest memories we'll be making together on the water and in the Bahamas. 

~ * ~ * ~
ON THE BLOG
* * *
What are you looking forward to in March? Please share in the comments.
Linking at Leigh Kramer's
My previous posts