Books I Recommend – February 2016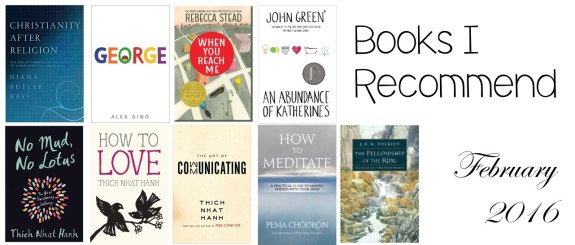 BOOKS I RECOMMEND
1. Christianity After Religion
The End of Church and the Birth of a New Spiritual Awakening
by Diana Butler Bass
"Awakening is not a miracle we receive; it is actually something we can do….What do you do to participate in awakening? Perform faith. Display the kingdom in all that you do. Anticipate the reign of God in spiritual practices. Act up and act out for God's love."
This is an excellent and intriguing look at the current state of Christianity and the rising trend of spirituality over religion. I highly recommend this book for a continued conversation about belonging, behaving, and believing.
2. George
by Alex Gino
The main character George wants to play the part of Charlotte in their class play of Charlotte's Web, but the teacher says a boy can't take that roll. This is a challenging but important young adult novel about transgenderism. It's my "Middle Grade Novel" pick from the Read Harder Challenge 2016 and well as for the category of "Book by or about a person that identifies as transgender."
3. When You Reach Me
by Rebecca Stead
This 2010 Newbery Medal winner is about 6th grader Miranda and a series of anonymous letters she's receiving in 1978 in her home in New York. It's a fun and easy to read mystery (and includes a few A Wrinkle in Time references). I enjoyed it.
4. An Abundance of Katherines
by John Green
Maybe the geniuses don't have it so good after all. This novel by the author of The Fault in Their Stars is a coming-of-age novel about the intelligent Colin and his crush on girls named Katherines.
5. No Mud, No Lotus
The Art of Transforming Suffering
by Thich Nhat Hanh
"When we learn to acknowledge, embrace, and understand our suffering, we suffer much less."
We each have our trials in life. We can't escape them. But we can be transformed through them. In this book Hanh talks about facing our suffering without being overwhelmed by it.
6. How to Love
(Mindfulness Essentials, #3)
by Thich Nhat Hanh
"In the beginning of a relationship, your love may include only you and the other person. But if you practice true love, very soon that love will grow and include all of us."
I've fallen in love with the wisdom of Thich Nhat Hanh (I read three of his books this month—they're short and practical). This book centers on the different ways to love, as well as meditative practices to expand our capacity for love.
7. The Art of Communicating
by Thich Nhat Hanh
"If your partner says something untrue, don't interrupt and say, 'No, no, you're wrong. That wasn't my intention.' Let him speak out. He's just trying to speak out the difficulty. If you interrupt, he will lose his inspiration to speak, and he will not tell you everything. You have plenty of time. You may even take a number of days to look deeply, in order to skillfully tell him about his wrong perception when he can hear it."
How do we understand others and become understood ourselves? Hanh has practical recommendations, including these 6 statements to say when we don't know what to say.
8. How to Meditate
A Practical Guide to Making Friends with Your Mind
by Pema Chodron
"Meditation gives us the opportunity to have an open, compassionate attentiveness to whatever is going on."
For Lent I'm attempting to do Centering Prayer everyday, so this book was a beautiful reminder to keep coming back to the present moment, and for me, to be more welcoming of God in the present moment.
[see quotes from How to Meditate here]
9. The Fellowship of the Ring
(The Lord of the Rings, #1)
by J.R.R. Tolkien
I didn't expect to enjoy it so much, after starting the trilogy when I was younger and finding it too confusing. But I decided to give it a try again as an adult for my 2016 Reading Challenges. And now I can't get enough. I'm currently reading The Two Towers, and am already looking forward to the third book.
CURRENTLY READING
Habits of Grace
Enjoying Jesus through the Spiritual Disciplines
by David Mathis
Breaking Busy
How to Find Peace and Purpose in a World of Crazy
by Alli Worthington
Reliving the Passion
Meditations on the Suffering, Death, and the Resurrection of Jesus as Recorded in Mark
by Walter Wangerin Jr.
The Two Towers
(The Lord of the Rings, #2)
by J.R.R. Tolkien
Walden
by Henry David Thoreau
A Return to Love
by Marianne Williamson
The Path of Centering Prayer
Deepening Your Experience of God
by David Frenette
The Marriage of Opposites
by Alice Hoffman
* * *
What are you reading this month? Please share here.
My books on Goodreads
Previous reading lists