Who wants a lazy kid? Nobody. But what can we do to help them better love and serve others?
We're looking today at four big ways to serve at Do Not Depart.
Given with the proper attitude, all service is worship to God if it touches another soul with his love.
I'd love for you to join me there and share we YOU have learned!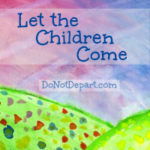 What advice do you have on helping kids serve?
What has worked for you? Not worked?