Is Jesus welcome in every room of your house? Every area of your life? 
Today we're asking him to tour our homes with us, letting him look under the beds, peek into the closets, see inside our pantries.
Invite him to renovate each space, bringing revival and renewal. . .
To the activities that go on in that space
To the people who walk through its doors
To the relationships lived out there
Join me today at Do Not Depart where we're printing this as a guide, then receiving Jesus's presence into every room of the house.
* * *
Read the whole post here. It's part of our #ReviveAndRenew series this month.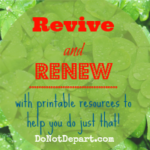 Are you on Instagram? Now Do Not Depart is, too! Please follow for beautiful scriptures to encourage your faith.