UPDATE:
12/18/15
I officially completed these four challenges and enjoyed each one. I'll post a list soon of my 2016 Reading Challenges. Favorite books from each 2015 challenge are:

1. TBR Pile Challenge:
Anna Karenina. It was very long, but worth the time spent in it. I'm sorry RoofBeamReader won't be hosting this challenge next year, so I'll try Mount TBR instead for 2016.
2. Back to the Classics: 
Abandonment to Divine Providence. Sigh, I almost always return to my non-fiction books for faves. This one fit well with my One Word 2015 "Now."
3. RTK Classic Book Club:
The Hound of the Baskervilles. Arthur Conan Doyle's mysteries always satisfy. Carrie is taking a break from hosting this challenge in 2016.
4. Newbery Through the Decades:
Inside Out & Back Again. But it's hard to choose! I did several re-reads in this category—books I'd read as a child seem different when read as an adult. Just as good, but deeper.
~ * ~ * ~
If you want to organize your reading list in 2015, here are 4 great challenges to help you.
Some have strict guidelines, but others are loose about how and when you'd like to participate. Books can overlap between challenges, but not within challenges.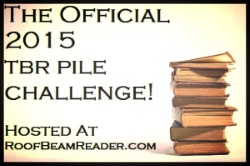 The Goal: To finally read 12 books from your "to be read" pile

My Picks: Anna Karenina, Becoming a Vessel God Can Use, Fever 1793, Billy Budd, The Little Prince, Life as a Vapor, Gathering Blue, The Invisible Man, The Catcher in the Rye, A Woman's Journey to the Heart of God, For Women Only, Destiny and Deliverance.
Alternate picks: Becoming a Woman of Freedom
The Goal: Read and post about a minimum of six classic books (1965 is the cut-off date; twelve categories to choose from)

My Picks:
A 19th Century Classic (Frankenstein by Mary Shelley)
A 20th Century Classic (The Catcher in the Rye by J. D. Salinger)
A Classic by a Woman Author (Middlemarch by George Eliot)
A Classic in Translation (The Little Prince by Antoine de Saint-Exupery)
A Very Long Classic Novel (Anna Karenina by Leo Tolstoy
A Classic Novella (The Invisible Man by H. G. Wells)
A Nonfiction Classic (Abandonment to Divine Providence by Jean-Pierre de Caussade)
A Classic Children's Book (Laddie by Gene Stratton-Porter)
The Goal: Read one classic per month from the list provided. Choose any or all months.
My Picks: June–The Little Prince; August–Laddie; October–The Hound of the Baskervilles by Arthur Conan Doyle
4. Newbery through the Decades
The Goal: Read one classic a month from the provided list of eligible titles of Newbery Medal winners, sorted by decades, beginning with the 1920s. Choose any or all months from January–October.
My Picks:
January (1920s)–Gay-Neck: The Story of a Pigeon by Dhan Gopal Mukerji
February (1930s)–Mr. Popper's Penguins by Richard Atwater
March (1940s)–Blue Willow by Doris Gates
April (1950s) – The Witch of Blackbird Pond by Elizabeth George Spears
May (1960s) – A Wrinkle in Time by Madeleine L'Engle
June (1970s) – The Westing Game by Ellen Raskin
July (1980s) – The Wish Giver by Bill Brittain
August (1990s) – The Giver by Lois Lowry
September (2000s) – Feathers by Jacqueline Woodson
October (2010s) – Inside Out & Back Again by Thanhha Lai
* * *
What's a book you must get read this year? Please share in the comments.
updated 12/18/15