Will You Say These Three Words More Often?
Trauma at the Train Table
What is wrong with this mother? Is she not thinking or is she just rude? I feel my anger rising.
And I should be happy. I've just stepped into Itty Bitty Magic City, after all.
We're at McWane Science Center in Birmingham playing with our grandson at the train table on a Friday morning. He could park here all day, zooming the train cars back and forth on the track. We've loved watching his delight.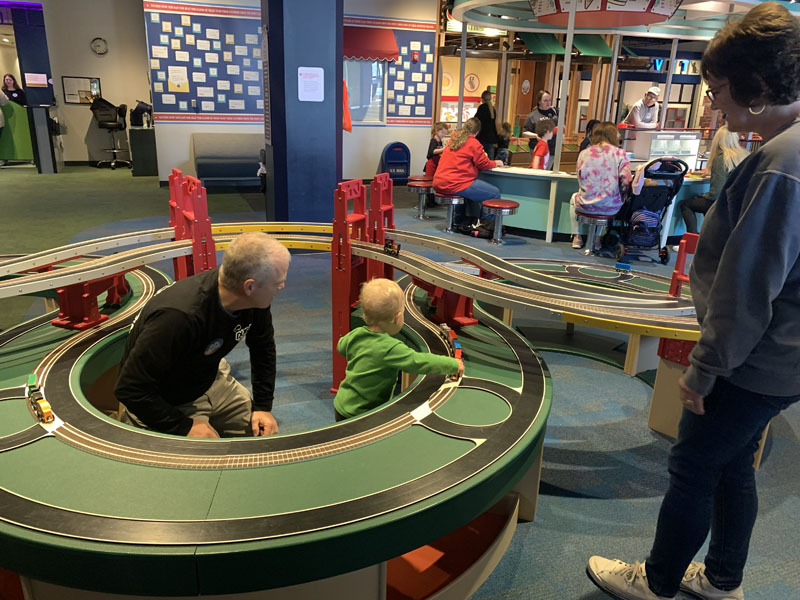 It's a busy morning, and of course other children want to play here, too. No problem. There are enough train cars for several children at a time.
Unless one child gathers more than his share.
And the newest boy at the train table, an older child, is commandeering most of the train cars.
But he's a child; we all get that.
His mother, however, is an adult. She sees her son taking all the cars; she sees our grandson's unhappiness about it. (Does she also see my stares?)
Yet she does nothing about it. Tension is growing around the train table.
Our daughter finally leans in and politely asks the other child if he'll please share one of the train cars with our little guy.
The other mother makes her son give up a car. One car. One car out of the dozen that he's hoarding. Who can make a train chugga-chugga down the track with a single car?
The train table is no longer fun as we watch. We stay for a couple more minutes, then move on to the next exhibit.
But I leave something behind there—my disdain for this stranger.
Say Please, Sorry, Thanks
We like to think we're the good guys, the kind ones, the mature ones.
And then something happens—like watching our grandchild get robbed of his toys—that causes us to realize we aren't as grown up as we thought.
The hostility inside surprised me. Granted, it's natural to feel outrage against injustice. But my emotion didn't exactly match the circumstances.
So I'm returning to the basics.
What did my mama teach me as a child—and I need to keep practicing as an adult? To say Please. Sorry. Thanks.
That's actually the title of Mark Batterson's newest book that publishes today, Please, Sorry, Thanks: The Three Words That Change Everything.
In the book, Batterson makes a case for changing the world through these three words and the implications they hold. He uses personal stories, scripture, historical and cultural references to talk about the power of please, sorry, and thanks.
"Nothing opens doors like please. Nothing mends fences like sorry. Nothing builds bridges like thanks."
Batterson sometimes goes a bit too far for me in exclaiming the power of these words. But I agree with his overall goal: we can better our relationships by changing our words.
"Our words don't just exchange ideas; they exchange energy."
With Humility and Specificity
I appreciate Batterson's emphasis on humility with each word. For instance, with please, Batterson writes:
"Please is giving someone else the upper hand. It's a posture of humility. It's setting aside your preferences. It's giving someone else the first right of refusal. Please is shaking hands, palm up. The greatest of all, said Jesus, is the servant of all."
For sorry, Batterson says,
"Few things take more courage than saying sorry! Sorry is a we word. . . . But it has to pass a twofold litmus test: It has to be specific, and it has to be sincere."
And when we say thanks, Batterson again says to be specific:
"The more nuanced your thanks is, the more powerful it is."
Put It Into Practice
When I think back to the train table, I wonder how I could refocus my heart using please, sorry, and thanks.
To the mother I convicted in my head, PLEASE can you forgive my harsh judgment of you?
I'm SORRY I was quick to label you a bad parent without knowing any details at all about you or your son or your day. Raising a child is complicated. I get that.
THANKS for providing me an opportunity to grow up a little bit more today. Being a human is hard work at any age.
May we all keep saying please, sorry, and thanks again and again and again.
---
Which have you said most recently: please, sorry, or thanks?
Share your thoughts in the comments.
my thanks to NetGalley + WaterBrook and
Multnomah for the review copy of this book