7 Books I Recommend – May 2019
I'm stingy with my personal list of 5-star ratings.
But for books #1-5 below, I easily give 5-stars. So, so good.
(#6 and 7 are also very good.)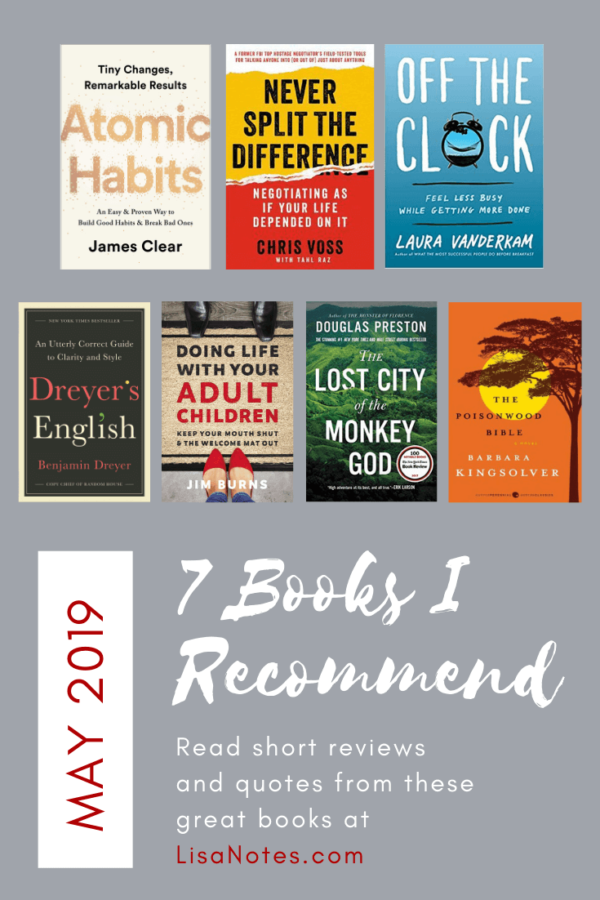 Books I Recommend
NONFICTION
1. Atomic Habits
An Easy & Proven Way to Build Good Habits & Break Bad Ones
by James Clear
If you care about making good habits in your life, this is a must-read. I'd been hearing it was good; it lives up to the hype. I'm already applying several little tricks to my own life to improve habits.
"Ultimately, it is your commitment to the process that will determine your progress."
[click here if you can't see 1-Minute Book Review]
James Clear has a great newsletter you can sign up for here. It is often excerpts from the book Atomic Habits.
2. Never Split the Difference
Negotiating as If Your Life Depended on It
by Chris Voss
This book is also SO good. Author Chris Voss is a former hostage negotiator for the FBI. He uses his experience (such fascinating stories!) to explain nine strategies we can use to make our lives better (not just for negotiations, but for relationships).
"Your most powerful tool in any verbal communication is your voice. . . .You can be very direct and to the point as long as you create safety by a tone of voice that says I'm okay, you're okay, let's figure things out."
Chris Voss also has an informative weekly newsletter with one tip each week at his blog, Black Swan. Even when it doesn't apply directly to me, there's something I can use each time.
3. Off the Clock
Feel Less Busy While Getting More Done
by Laura Vanderkam
This is yet another game-changing book. Too often I catch myself saying, "I just don't have enough time." This book helped me realize mistakes I'm making with time and how to correct them.
Off the Clock is not just a time-management book though (although it is partially that), but also a philosophy of living.
Be warned: Laura Vanderkam strongly encourages you to track your time for two weeks to see where it's actually going. It's painful. But enlightening. (I'm using the free version of Toggl to track my time; if you want a digital tool to track your time, I highly recommend Toggl.)
"I repeat a two-part mantra: Plan it in. Do it anyway. If my anticipating self wanted to do something, my remembering self will be glad to have done it. Indeed, my experiencing self may even enjoy parts of it. I am tired now, but I will always be tired, and we draw energy from meaningful things."
I also listen to Laura Vanderkam's short podcast, Before Breakfast, each morning.
4. Dreyer's English
An Utterly Correct Guide to Clarity and Style
by Benjamin Dreyer
If you write anything (blogs, books, emails, etc.), this book is a wonderful resource. But beyond that, it is very entertaining. Author Benjamin Dreyer (copy chief at Random House) is an expert at using words. Who knew a grammar book could be so funny? I had to read excerpts out loud again and again to Jeff because they were so witty.
Here's some writing advice:
"Here's your first challenge: Go a week without writing very, rather, really, quite, in fact. And you can toss in—or, that is, toss out—'just' (not in the sense of 'righteous' but in the sense of 'merely') and 'so' (in the 'extremely' sense, though as conjunctions go it's pretty disposable too).
   "Oh yes: 'pretty.'..And 'of course.' That's right out. And 'surely.' And 'that said.'
   "And 'actually'? Feel free to go the rest of your life without another 'actually.'"
5. Doing Life with Your Adult Children
Keep Your Mouth Shut and the Welcome Mat Out
by Jim Burns
There are thousands of books on parenting young children. But parenting adult children? Not many. This book is excellent. Written from a Christian perspective, Jim Burns answers questions like:
When is it okay to give advice to our adult children?
What do we do if they're about to make a big mistake?
How do we relate to our child's spouse?
Where's the line between enabling and helping?
"There is relatively little available about the challenges of parenting an adult child. Yet we will spend more time as a parent of an adult child than we will as the parent of a young child and adolescent."
My daughters are both in their 20s, but I'm still their mother. They still need me, just in a different way. This book helps clarify the way. (Thanks, Beth, for tipping me off to this one and for the giveaway copy.)
[See review and more quotes here of Doing Life with Adult Children]
6. The Lost City of the Monkey God  
by Douglas Preston
This is a 4-star book for me, only because it had more historical detail than I needed. But if lots of background information is your thing, you might give it 5 stars. It's the true story of discovering a lost city in the jungles of Honduras. It's not for the squeamish. The journey was dangerous, snake-filled, and disease-ridden. But fascinating.
FICTION
7. The Poisonwood Bible
by Barbara Kingsolver
This novel is about a traditional, evangelical Baptist missionary, Nathan Price, who takes his wife and four daughters to the Belgian Congo in 1959. The female characters take turns narrating the chapters. Living in Africa turns out to be much more difficult than they had imagined or prepared for.
Barbara Kingsolver does an excellent job switching voices for each character and keeping the plot rolling along over three decades. It's a long book (546 pages), but the length felt necessary to fully hear the story.
READING NOW
I'd Rather Be Reading
The Delights and Dilemmas of the Reading Life
by Anne Bogel
Glorious Weakness
Discovering God in All We Lack
by Alia Joy
Outliers
The Story of Success
by Malcolm Gladwell
Almost Everything
Notes on Hope
by Anne Lamott
In the Shadow of Statues
A White Southerner Confronts History
by Mitch Landrieu
The Highly Sensitive Person
How to Thrive When the World Overwhelms You
by Elaine N. Aron
Born to Run
(audiobook)
by Bruce Springsteen
Nine Perfect Strangers
by Liane Moriarty
* * *
What good book are you reading this month? Please share in the comments.
My books on Goodreads
More books I recommend