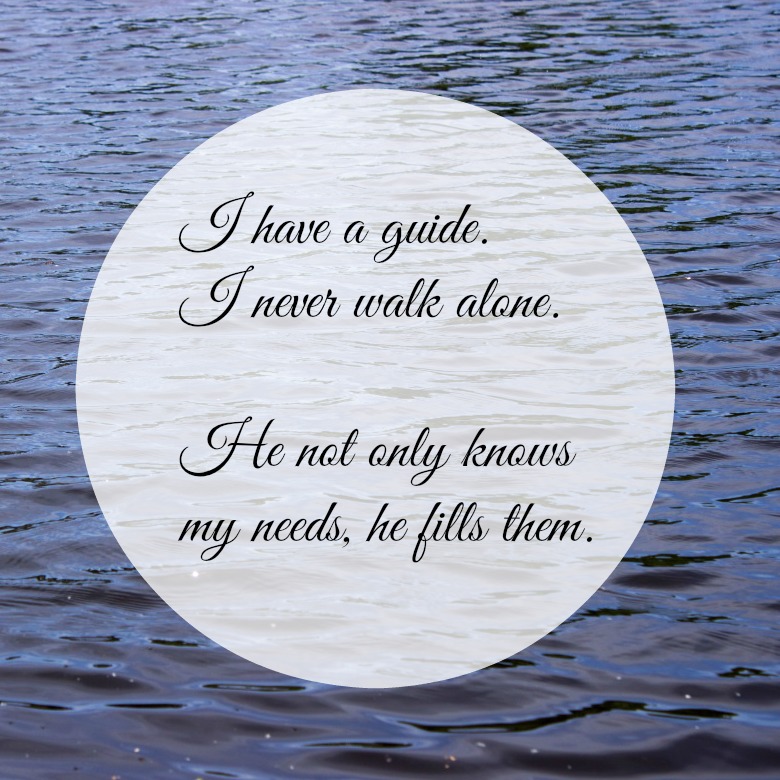 1 – I have a guide—I don't walk alone.
He not only knows my needs, he fills them.
2 – He knows when I need rest and when I need activity. When I need retreat from reality, he gently pulls me aside to quiet, lush places, and watches over me while I sleep.
3 – He fills my time with restorative things that heal my soul. He knows when I'm tempted to walk away from his best, and calls to me from behind and before to follow him instead, for my own good and for his plans.
4 – In times of trouble, of conflict, of trials, of pain, he never lets me walk alone because he knows I would be afraid without him. He stays by my side and fills me with his peace, with his comfort.
5 – When relationships cause me anxiety or sadness, he shows me that he loves me, and always will. He loves me so much that I can't even grasp it.
6 – Each day, one day at a time, day after day, he gives me good things and helps me be good. He grants me forgiveness each time I hurt him and others, and he tells me over and over that it is okay, all is well between us because I will always be safe in his hand. No one and nothing can snatch me from his protection and deliverance and salvation.
Forever and always, the Lord is my shepherd, and I shall not want.
* * *
Flipping back through an old journal from 2005, I found this. Psalm 23 has always been one of my favorite psalms.
Do you have a favorite psalm? Do you ever rewrite it in your own words?